Thank you to everyone who helped me pay down one of my students loans by buying a t-shirt or coffee cup! I paid off the Wells Fargo student loan this weekend and only have about $98,000 left to go! Help me celebrate by sharing this post! Yee-haw!
I started selling these t-shirts and coffee cups with funny and snarky designs at Cafepress and Zazzle several years ago. While I don't make a lot of money doing it, it does help me to pay down my student debt faster and this weekend I had the great joy of zeroing out the Wells Fargo student loan.
Curious about my t-shirts? Here are a couple examples. You can follow the links in this post to see more funny snarky t-shirts and coffee cups. And if you buy from one of my shops, it helps me get out of debt faster without government hand-outs or crowd funded begging. And YOU get a cool thing! Check out the world map of where people are wearing my snarky designs.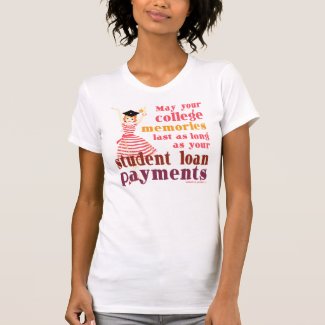 Student Loan Memories Tshirt
by
MalarkeyPie
Find more College T-Shirts at
Zazzle